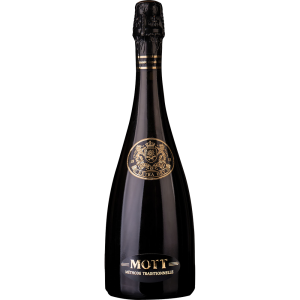 The sparkling wines from the MOTT special collection are wines dedicated to the founder of ZAREA, Wilhelm Mott, an oenologist who was passionate about Romania and wines. There are high class products that aim to continue the work of the one who built the most appreciated brand of sparkling wine from the interwar period.
MOTT Methode Traditionelle, with the Extra-Dry assortment, is a sparkling wine that incorporates the ZAREA Company's secular experience in the production of sparkling wines. MOTT, the sparkling wine of a pale yellow color with radiant notes of ripe fruits and almonds, with a fresh harmonious taste, fine and persistent bubbling, is produced by the Traditional Method of Natural Fermentation in the bottle, from a blend of selected wines. Only 6% of the wines sold in Romania are produced by the Traditional Method.
MOTT Prosecco is a fresh DOC sparkling wine, with floral notes and fine bubbling, made 100% of the glera grape variety from vineyards located in northern Italy in the Prosecco Treviso DOC area.
MOTT White Extra-Dry, volume 12.5% alc. 0.75 L

MOTT Prosecco Extra-Dry, vol. 11% alc. 0.75 L