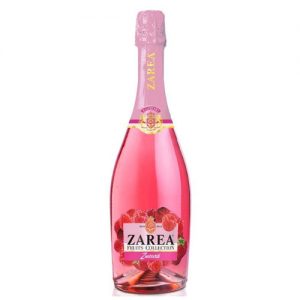 New in the Range, ZAREA Fruits Collection Raspberry, it enriches the wine with the rich, fruity and sweet taste of fresh raspberries. It is a drink dedicated to romantic moments or any special occasion that requires a little effervescence.
 
Fragrant and tasty, the Fruits range Collection cocktails are delightful drinks that pamper all the senses with the sweetness and flavor of the fruits mixed in the delicacy of the wine with a slightly bubbly texture.
In an elegant and modern packaging, ZAREA Fruits Collection is the range that supplements the taste portfolio with the most appreciated fruit flavors: Strawberries, Peaches and Blueberries. To the highest quality wine is added natural juice in order to give to the consumers a soft, elegant and rich fruit taste.
ZAREA Fruits Collection Strawberries 0.75 L, 0.2L
ZAREA Fruits Collection Peach 0.75 L, 0.2L
ZAREA Fruit Collection Blueberries 0.75 L
ZAREA Fruits Collection Raspberry 0.75 L