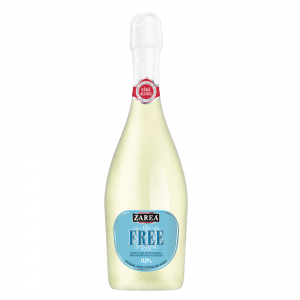 ZAREA FREE 0.0% is a non-alcoholic alternative to classic sparkling wine, suitable for those who have decided to temporarily or permanently give up alcohol consumption, but appreciate the taste of wine and want to enjoy a drink at a party in the company of loved ones.
ZAREA FREE 0.0%, also known as de-alcoholic wine or non-alcoholic wine, is an assortment of wine that was produced in the same way as traditional wine, but with the alcohol removed before bottling. It may sound simple, but it is a process that requires crafting, and because there is no alcohol to enrich the taste, the preparation of a non-alcoholic sparkling wine requires a whole new level of science and art.
ZAREA FREE 0.0% is a LOW CALORIE drink because it has less than half the calories that a classic sparkling wine contains. ZAREA 0.0% is also a Vegan Friendly product because it is made entirely of vegan ingredients. It is suitable for drivers, pregnant women, people on antibiotics or those on a diet and want a healthier lifestyle.
ZAREA Free vol. 0% alc. – 0,75 L