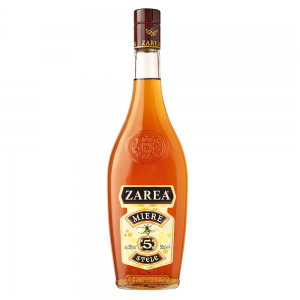 Relying on our experience in making spirits but also on the recognition of consumers, we have achieved ZAREA 5 Stars, a beverage to the highest quality standards, with an optimum alcoholic strength, a distinct packaging design and an excellent taste, chosen by consumers.
ZAREA 5 Stars is a fine spirit drink, with optimum strength, gentle taste and discrete aromas of aged wine, walnuts and raisins, in a distinct packaging. To be enjoyed in moments that deserve it.

ZAREA 5 Stele Honey is a novelty in the range, with a subtle addition of honey, but keeping the ZAREA 5 Stele character, potentiating it with new aromas of linden and acacia flowers. It can be enjoyed as such, with ice or hot tea.
ZAREA 5 Stars, vol. 37,5% alc. – 0,05L, 0,1L, 0,2L, 0,5L, 0,7L
ZAREA 5 Stele Honey, vol. 37,5% alc. – 0,5L